Store
HELLACIOUS
2012 Easton Chile Pepper Festival – 1st Place People's Choice
2013 New Orleans Chile Pepper Extravaganza – 1st Place Chipotle
2013 New Orleans Chile Pepper Extravaganza – 1st Place Condiment
2014 World Championship Golden Chile Award – 1st Place Chipotle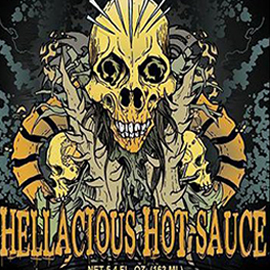 The Hellacious Hot Sauce is robust and bold with expressive flavor. With the unique combination of the peppers and a variety of spices this artisan sauce will enhance you taste buds to a new culinary experience. Devilishly addictive on your burgers, steak, chicken, pork and pizza.

Ingredients: Habanaro Peppers, Vinegar, Agava, Chipotle Peppers, Lime Juice and Garlic.

| | |
| --- | --- |
| Single Bottle – $5.99 | Case (12 Bottles) – $59.88 |
TEARS OF THE SUN
2014 World Championship Golden Chile Award – 1st Place Caribbean Style
2011 Hot Pepper Award – Best Over All Hot Sauce
2011 Hot Pepper Award – 1st Place Fruit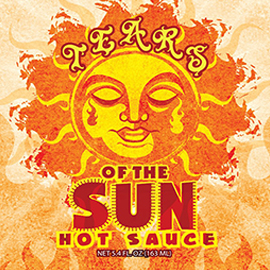 Tears Of The Sun is a deliciously dangerous blend of habanero peppers and tropical fruit. Your taste buds are greeted by the sweetness, then rising like the sun on a hot summer day the heat settles in to make this unique sauce. Chicken, pork, fish, vegetables, hot dogs, tortilla chips, even a bagel with cream cheese…if your food is crying for help…it's crying for some Tears of the Sun!

Ingredients: Habanero Peppers, Peaches, Papaya, Pineapple, Mango, Cider Vinegar, Brown Sugar, Ginger, Red Pepper, Salt and Garlic

| | |
| --- | --- |
| Single Bottle – $5.99 | Case (12 Bottles) – $59.88 |
ROGUE
2013 Wofi Award – 2nd Place People Choice – Weekend of Fire
2014 World Championship Golden Chile Award – 1st Place Fruit Based Hot
2013 World Championship Golden Chile Award – 3rd Place Hot Sauce – Pepper Blend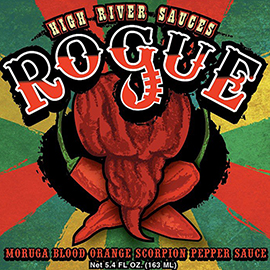 Rogue is all natural and all attitude. The unprincipled blend of the hottest peppers in the world, the unique flavor combinations of the Blood Orange, Apples and Pears makes this sauce highly appreciated by extreme heat and flavor aficionados. Refreshing heat with a subtle hint of sweetness, Rogue captures all those exotic blends that you've been craving in a gourmet sauce.

Ingredients: Moruga Scorpion Peppers, Jolokia Peppers, Red Serrano Peppers, Blood Oranges, Apples, Pears, Apple Cider Vinegar, Brown Sugar, Lime Juice, Garlic and Ginger.

| | |
| --- | --- |
| Single Bottle – $7.99 | Case (12 Bottles) – $83.00 |
Foo Foo Mamma Choo
Foo Foo Mama Choo is an assortment of spices combined with the secrets of the Far West to the valleys of the South East. You will enjoy the savory sweet taste of the roasted peppers, tomatoes, garlic complimented by a snap of fresh ginger. BAM! Your body, mind and soul are engulfed by scorching heat and the floral taste of the hottest pepper in the world, The Smokin' Ed's Carolina Reaper. Mystery Solved.

Ingredients: Roasted Red Peppers, Fire Roasted Tomatoes, Rice Wine Vinegar, Carolina Reaper Peppers, Onions, Brown Sugar, Garlic, Soy Sauce, Ginger Root, Salt, White Pepper, Secret Herbs and Spices.

| | |
| --- | --- |
| Single Bottle – $9.99 | Case (12 Bottles) – $100.00 |
GRAPES OF WRATH

Create A Case
Crank Up Your Case to get the ultimate High River experience. Stock up on your favorite flavors or share them with your friends. Either way you are getting a great deal and some amazing hot sauce. Bottles Up!!!

Six Packs
Need a quick fix of your favorites Sauces? Crank up your Holidays, Weekend Parties or Special Events with your 6 Pack of High River Sauces. Cheaper shipping for you and your friends.

High River Sauces Chili Pepper T-Shirt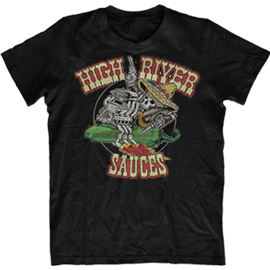 Be the first on your block to own this stylish High River Chile Pepper T-Shirt. If you wear this T-Shirt at your local bar you might have someone buy you some beers. You been warned.
Mosh Potatoes Cookbook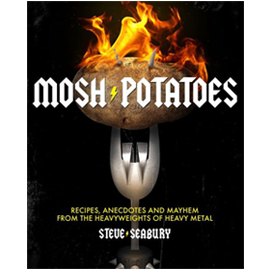 Steve Seabury owner of High River Sauces is proud to announce his first cookbook released by Simon & Schuster. Featuring some of the biggest names in Rock & Roll. Order up the book, fire up the grill and put the beers on ice. This cookbook will promise to crank up your kitchen.

"Mosh Potatoes proves once and for all, that COOKING is indeed METAL. Every recipe in this book is pure evil. And I mean that in the most delicious way." — Chris Santos, Food Network Star ("Chopped") and Chef/Owner, Stanton Social

"This is the book to get your 'pit' on, the BBQ pit!!" — Bobby Blitz, Overkill

Voted the best cookbook of 2010 – Chicago Reader

Steve has been featured on multiple media outlets including CBS News, FOX News and Rolling Stone Magazine. Portion of the proceeds benefit the Meals on Wheels Charity and all books ordered will be personally singed.